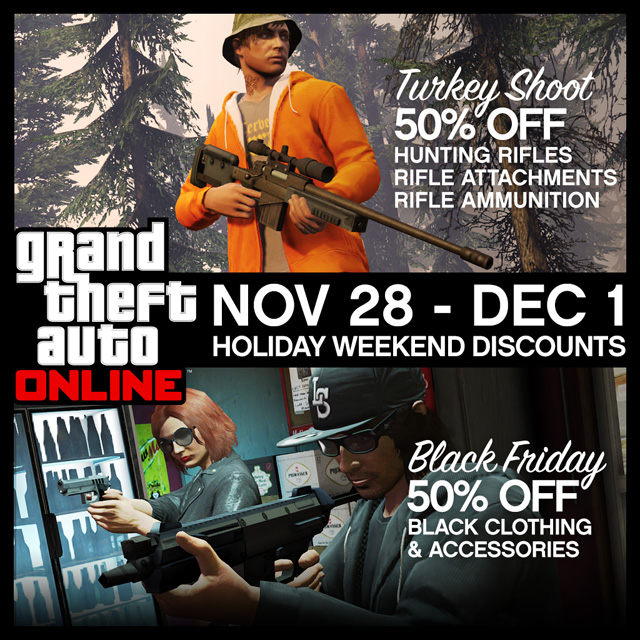 Get ready to spend some hard earned cash this weekend! Certain clothes, vehicle mods, and weapons will be on sale starting Thursday, November 28th and ending December 1st!
Turkey Shoot
Targeting your elusive bounty for the holiday table shouldn't cost an arm and a leg.
50% Off "Hunting" Rifles: Assault Rifle, Carbine Rifle, Advanced Rifle, Heavy Sniper, Sniper Rifle
50% Off All Rifle Attachments
50% Off All Rifle Ammo
Black Friday Sale
Color-coded Discounts are the new black this season.
50% Off Select Black Colored Clothing & Accessories, including: jewelry, ties, shirts, vests, jeans, pants, board shorts, dresses, skirts, chinos, shoes, flip-flops, cargo pants, t-shirts, tracksuits, tank tops, hoodies, polo shirts, skate shoes, oxfords, boots, masks, ear defenders, hats, beanies, bandanas, helmets, glasses and much more.
50% Off Select Black Colored Vehicle Modifications: window tinting, black tire smoke, black license plates
Have a GTA filled Thanksgiving!
Are you ready to revisit an old classic on-the-go?
Before GTAV took us to the sun-bleached sidewalks and humming concrete freeways of present-day Los Santos and beyond, there was Grand Theft Auto: San Andreas, the biggest GTA of the PS2 era. Now, head back to the early 90s with CJ and the Grove Street Families when Grand Theft Auto: San Andreas comes to mobile devices next month.
Encompassing Los Santos, San Fierro, Las Venturas and everything in between, Grand Theft Auto: San Andreas has been upgraded for its mobile release. Newly remastered graphics including dynamic and detailed shadows, greater draw distance, an enriched color palette, plus enhanced character and car models make this the best-looking version of San Andreas yet.
Grand Theft Auto: San Andreas also features brand new touch controls including contextual control options to display buttons only when you need them and three different control schemes for driving and maneuvering, as well as a reworked checkpoint system for easier progression. Grand Theft Auto: San Andreas for mobile also comes equipped with full controller support, including Made for iOS controller capability on iOS7. It will be available for select iOS, Android, Amazon Kindle and Windows Mobile devices. Stay tuned for more details in the weeks ahead.

This weekend, Friday November 22nd through Sunday November 24th, hit the beaches of Vespucci, Chumash and Paleto Bay for the very first Grand Theft Auto Online Social Club Event Weekend.
The Grand Theft Auto V Collection has just been updated with some new arrivals, including the "Bugstars Pest Control" shirt, new posters, and the GTAV Zippo Lighter. See below for more details on the new gear and collectibles. (more…)
The Beach Bum Update is now available on both PlayStation 3 and Xbox 360. In order to keep GTA Online flexible and constantly evolving, the game is built to receive new content in a variety of ways including major paid expansions at specific points across the year, dropping additional content via regular title updates. (more…)
Get ready to hit the beach with all new Jobs with the Beach Bum update for Grand Theft Auto Online, coming November 19th! (more…)
To keep fans happy and prevent them from becoming bored of waiting for news on heists and the upcoming DLC pack, Rockstar have released some more artworks – perfect as desktop backgrounds! (more…)
Rockstar started to roll-out the stimulus package promised around a month a go to players of Grand Theft Auto: Online, and instead of two transactions – many players have received it all in one. (more…)
A hot debate within the GTAOnline community right now is the Bad Sport league, and just how easy it is to find yourself within it. Lots of frustrated fans, and in this post I outline the changes I feel are necessary to fix it. (more…)
Rockstar have addressed more issues and ironed out man more of the teething problems GTAOnline suffered with the latest patch, which fixes numerous issues with the game and makes it a whole lot more playable.  (more…)